Traveling is not just a hobby, it means much more than that. So many people are fascinated with foreign culture and want to visit some of the best places that God has granted to us. We have created our top ten destinations list, and this list contains beaches, cities, monuments and everything!
Destination #10
La Valletta, Malta
This tiny city located in the small island of Malta is a top traveling destination for the history lovers. It's full of fascinating history, including a lot of museums, churches and other monuments. On the other hand, the good this about this visit is the easy access to the best beaches of Malta.
Destination #9
Anguilla, Caribbean (British overseas territory)
This is one of the top beaches in Caribbean. It offers the best water to swim and surf in, the best hotels ever and the people are very hospitable. English is also an official language there. The island only has 13,000 inhabitants but it's perfectly built for tourists. The water is very clean and light blue. This place is better than a computer screensaver!
Destination #8
Paradise Island, Bahamas
This island is certainly the paradise on earth. It is on the top 10 vacation destinations list because it is well-constructed and it is widely known for its Vegas like buildings. In fact, this island was often called Vegas by the sea. On the other hand, the beach is one of the best in the region!
Destination #7
Zermatt, Switzerland
From the warm, cosy beaches, let's travel to a fantastic ski resort in Switzerland. This country is famous worldwide for its one-of-a-kind ski resorts, and the village of Zermatt offers one of those resorts. The village has many cabins and skiers from all over the world come to visit this great little place.
Destination #6
Pisa, Italy
Probably most of you have a water ball globe showing the Pisa monument from Italy but only a few have actually visited it. This wonderful monument is a pleasing sight to view live. And the other best thing, once you get to Pisa, you can also go visit Rome, Naples, Torino, Vatican City, Sicily and all other fascinating cities of Italy and surrounding areas.
Destination #5
New York City, NY, USA
Traveling to New York is one of the best things to do for any person. The biggest city of USA is like a country itself. In New York City, there are so many things to see, including the famous Statue of Liberty and the whole Manhattan area, the Times Square and everything. New York hotels may vary, the hotels in Manhattan are the best and most of them are even affordable!
Destination #4
Sydney, Australia
Sydney is certainly one of the best Australia travel destinations and it has so much to offer. The buildings are breathtaking, the skyline is fantastic but the beaches are the best. This is what Sydney, Australia can offer and other beaches can't. Apart from having a lot of wonderful beaches and a great weather, it is also a metropolis. The Houses of Opera definitely need a visit!
Destination #3
Bora Bora, French Polynesia
Most people have heard about Bora Bora and its magic. In fact, Bora Bora is becoming a top traveling destination even though the prices are quite high over there. It can be easily reached from Tahiti but you may need to switch a few planes on your way there but it's definitely worth it. The fantastic island is a top romantic travel destinations and it's perfect for honeymoons but also for families. There are many luxurious hotels in there so it's better to have a budget planned before traveling to Bora Bora! But cheap hotels are also available and the vacation might come to a dirt cheap cost in the end!
Destination #2
Horseshoe Bay, Bermuda
This worldwide known beach is famous for its pink sand! That's right, it has a pink sand which is highly uncommon in other beaches of the world. The pink sand is a work of God and it is explained by the science. Nevertheless, it is one of the best romantic traveling destination and there are so many activities for you to do while you are there.
Destination #1
Honolulu, Hawaii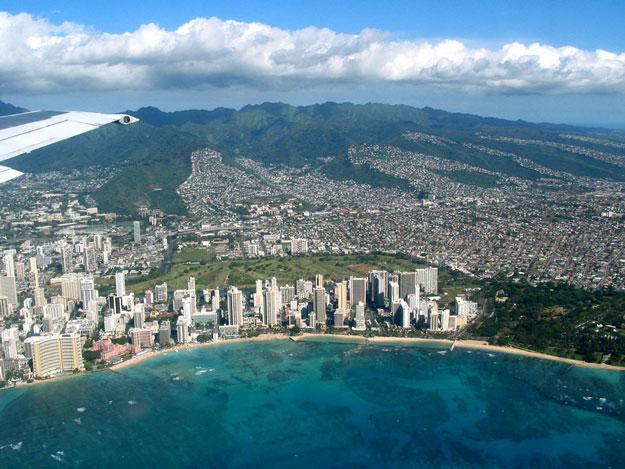 You saw this one coming, didn't you? A relatively large city in the middle of the ocean, Honolulu is a magical place, with a capital M in fact! Modern buildings, restaurants, bars, shopping all you want and all that combined with the best beaches of the world. From this point of view, it is kind of like Sydney, Australia but what Honolulu has more is that it has a very easy access to Hawaii's best beaches. Cheap hotels are also available but it is best if you save a little and rent a room on a luxurious hotel! Honolulu is picked as one of the best exotic places to travel to and you haven't seen the world if you haven't gone there!